Shop Small and Shop Local
Just like every year, large corporations are going to lower prices to bring in troves of eager, and sometimes angry, Black Friday shoppers. While the big screens and kitchen appliances are flying off the shelves, consider how you can support small local businesses this Black Friday weekend and throughout the Holiday season. There's no shame in lining up for the huge discounts, but we hope you'll also consider small local businesses for your holiday shopping lists.
Our 2021 Black Friday Tooth Gem Deal in San Diego
At Wolf and Shadow Tattoo Collective [fka Diego Tattoo Gallery], Stay Flossy, San Diego is offering a bedazzled Black Friday Deal. Book an appointment on Black Friday (11/26/2021) for any later date and get $20 off your tooth gem appointment. Show off your jolliest smile with a Swarovski crystal tooth gem from Stay Flossy, San Diego. You can also purchase a gift certificate for a loved one from Stay Flossy, San Diego!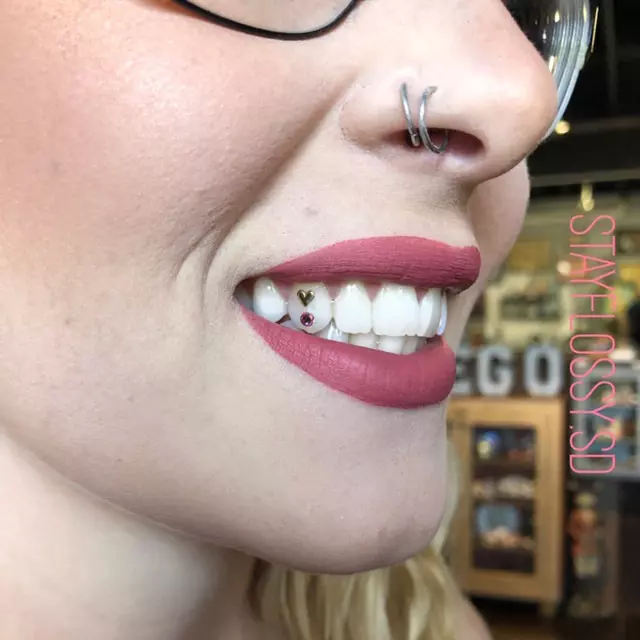 Give the Gift of Art
Give the gift of ink this year! Contact your favorite artist to discuss gift certificates or pre-paid tattoo time for your friends, loved ones, or your dang self! Your artist will be happy to work with the gift recipient to create a one-of-a-kind custom tattoo. There is not a single kitchen appliance on earth, no matter how discounted, that compares to custom body art. The artists at Wolf and Shadow Tattoo Collective [fka Diego Tattoo Gallery] are always excited to work collaboratively to create something memorable!
Many of our artists also have online merch stores where we sell prints, buttons, pins, stickers, and more. Come into the shop to browse other custom merch items in our lobby if you prefer in-person shopping. Either way, you'll be supporting a local artist and buying a custom item.
Why Shop Small?
Now more than ever, small businesses need your support. We have all been impacted by the Coronavirus Pandemic in unimaginable ways. Just like you, we have lost loved ones, missed work, experienced new mental and physical health challenges, and are still working to regain some sense of normalcy. As tattoo artists and members of the arts community, we have missed being at the tattoo shop together. When you shop small at Wolf and Shadow Tattoo Collective [fka Diego Tattoo Gallery], your time and money are deeply appreciated and directly support a local artist.
Beyond supporting local businesses, shopping small is a great way to ensure your gift is impactful and memorable. No one remembers the necktie or fuzzy socks they were gifted five years ago, but something handmade, custom, and unique will be talked about for years. Spending your Black Friday cash at local small businesses is an investment in the people you care about.
Small Businesses in San Diego
Of course, we hope you come to Wolf and Shadow Tattoos for merch, tattoos, custom art, and tooth gems. We also hope you shop at other local San Diego small businesses this Black Friday and beyond. We compiled a list of some of the local spots we love and would love to hear about your favorites too!
See You Soon!
Whatever the occasion, we hope to see you soon at Wolf and Shadow Tattoos! It has been such a joy welcoming everyone back into the shop. We hope you have a safe enjoyable rest of the year. As always, please reach out if you have any questions.